THIS IS A VERY SMALL SAMPLE OF OUR COLLECTION
info@culturalrevolutionartifacts.com
718.753.0790
Chinese Propaganda Art Collection of Michael T. Ungaro and Dr. Eva Yan. Here you will find authentic artifacts from the Peoples Republic of China during the years of Chairman Mao Tse-Tung
The collection includes many posters,books,ceramics,brocades and original paintings.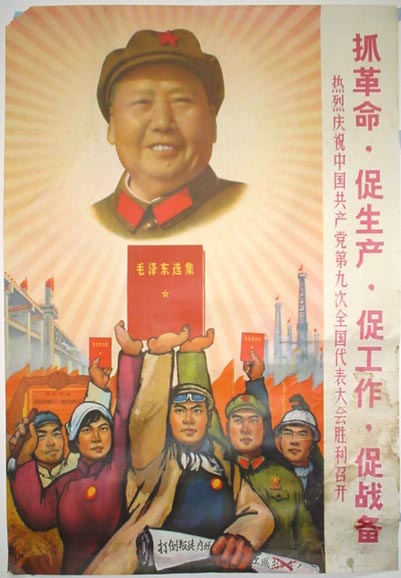 "Grasp Revolution, Enhance Production, Promote Work and Prepare for War"
condition: some staining on lower right otherwise excellent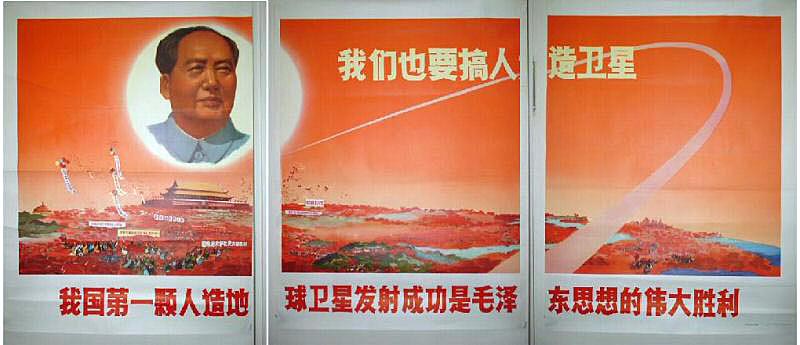 This is a rare commemorative poster from the start of the Chinese space program.

China has launched their first manned space craft this year.

3-in-1 big size poster; Title" The Successful Launch of the First Satellite of China is a Great Victory of Mao's Thoughts!"; size at 66x86cm each or 192x86 cm (75.5x34 inches)in total; poster in separate condition, some folds particular on the left panel near the bottom title area and a small tear near the left edge of the white circle; overall in very good condition and all panels look as fresh as newly issued; Published by Yuen Nan Peoples' Publishing House in 1970 July; with clear imprints on right bottom corner; Very rare posters. Yuen Nan People's publishing House didn't publish many posters during the CR period and this is the only 3-panel posters published by them.

Price on request SOLD

Note: On 04/02/05 Swann Galleries in N.Y.C. had a live auction with ebay (item#6519504119)This poster assembled in a crude fashion sold for $2800 plus 20% bidders premium total $3360.00

"Chairman Mao is With Us Forever!" This is among the best and rarest Maoist movie poster from the late 60's.
It describes Mao receiving the red guards. On right top part is a quotation of Mao saying, "You should be concerned about national affairs and follow through the cultural revolution till the end!"; in this poster, Mao is portrayed into a giant man to highlight his overwhelming power and charm over the crowds. This is the original poster of the late 1960's. Not the smaller bogus poster found on eBay. It is framed, mounted and protected with conservation glass. A stunning poster at approx. 42 x 27 inches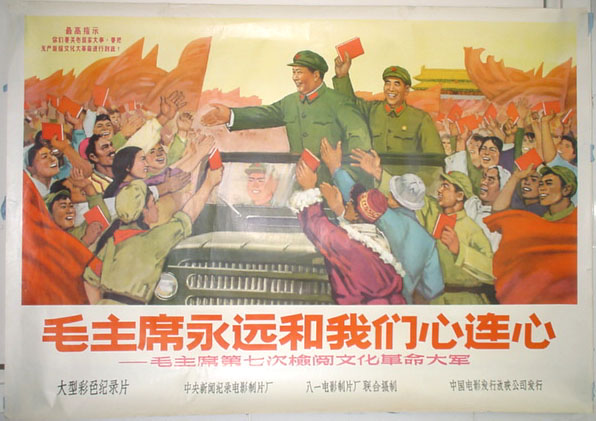 "Mao and Us Heart in Heart--Mao's 7th Review of the Red Guards" (1967 Peking) (Film Poster)
Posters with Lin Biao are always rare
This is the authentic 1967 poster not an eBay fake.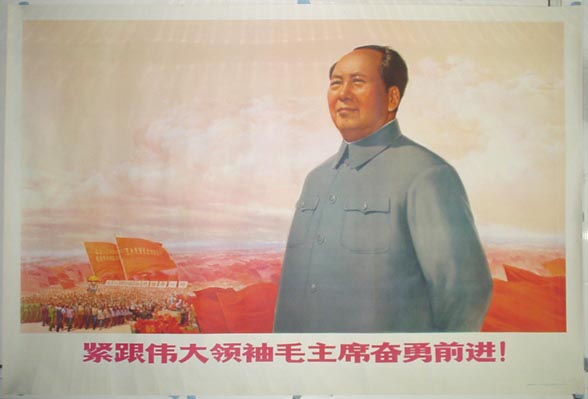 "Follow Closely Chairman Mao and Leap Forward!"
a huge poster at 40 x 30 inches in excellent condition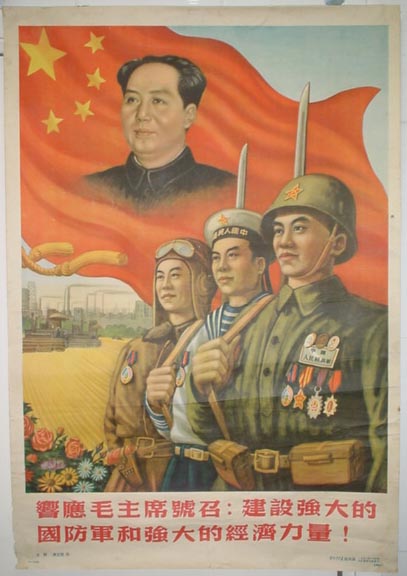 "In Response to the Calls of Chairman Mao to establish a Strong National Army and Economic Power!"; by famous artist; published in June 1951 by People's Liberation Army Pictorial;First edition at only 70,000 copies; excellent condition; 30 x 21 inches; This is a model for all later versions of Maoist poster with Mao head and all three divisions of Army, Navy and Air Force. Scarce item from 1951!!!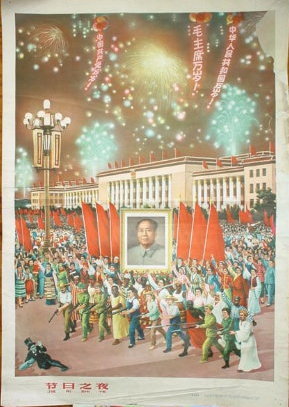 "The Night Of Celebration" 1964
Description: On the streamers and pennants we can read the following slogans:
1.Long Live The Chinese Communist Party
2.Long Live Mao
3.Long Live The Peoples Republic Of China
This was the occasion of the 15th anniversary of the PRC, and a celebration to defeat the American enemy and his atomic bomb. Which takes place in front of the hall of the people in Tiennamen Square. The year 1964 is marked by the beginning of the war in Vietnam and a series of international events which awoke the sentments of the imperalistic Chinese. This was also the time that china began an interest in atomic energy and its uses.
Condition: Good
30 x 21 inches
Reference: Page 4 "Les Annees Mao by Jean-Yves Bajon
ISBN:2-87868-061-8
French to English translation Leo L. Prue

A rare anti-U.S. poster preceding the Cultural Revolution!! PRICE ON REQUEST
Repair on upper right corner (see picture)
SOLD 10/14/2020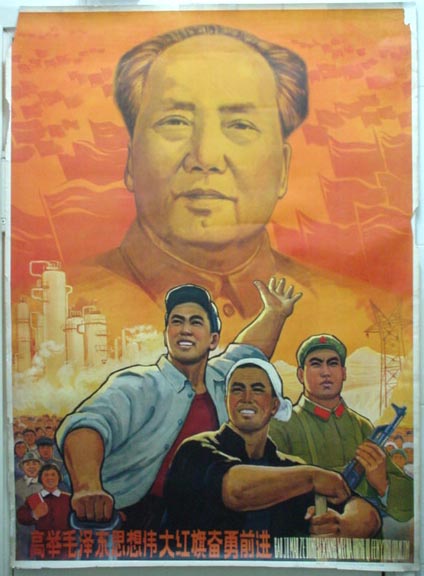 "Hold High the Red Red Flag of Chairman Mao"
A Huge size poster 30 x40 inches with main graphic in very good condition there are two white pieces missing on the left and right top margin.
Published April 1966 by thr Shanghai PPH, right before the start of the Cultural Revolution. Strong action poster with a wonderful portrait of Chairman Mao.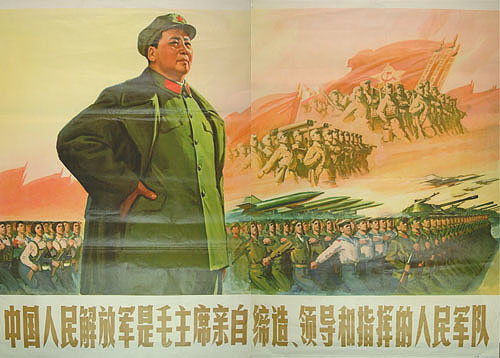 Rare 2-Sheet MAO Poster for People's Liberation Army

"CHINESE PEOPLES LIBERATION ARMY IS ONE PEOPLES ARMY WHICH CHAIRMAN MAO FOUNDED, LEADS AND COMMANDS BY HIMSELF". Rare Two-Sheet poster designed and painted by Wu Min, produced by Tianjin Peoples Printing Factory, published by Peoples Art Publishing House, and sold by Xin Hua Bookstore, Beijing Department, May 1977. First edition, 1st printing of this massive five-foot poster, published after the death of Chairman Mao but intended to honor his memory and indicate that even now he inspires and leads the people of China. Written on the banners of the three flags towards the left top margin translates "Chinese Peasant and Workers Red Army". Two-Sheet and Three-Sheet posters were produced in China chiefly during the 1970s but are now seldom found still in their original unassembled separate sheets, complete and in relatively decent physical condition.
Measurements:
Measurement: 41-1/2 x 60 inches (when assembled together)
Condition: Very Good
Translation by Oliver Han Lei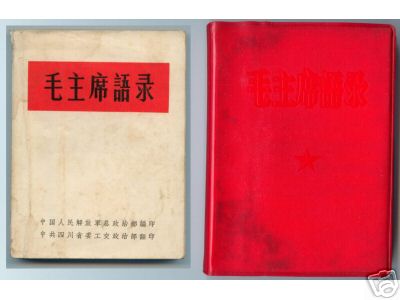 QUOTATIONS FROM CHAIRMAN MAO 1ST EDITIONS EXTREMELY RARE, Available in the 2 binding styles, 1964
One in Red Vinyl And One in White Wrappers.
These are complete examples with no missing pages.
I have most of the sought after early PRC Publications.
Please email for info and your requests. mikeyes@earthlink.net
1964 Mao Quotations start at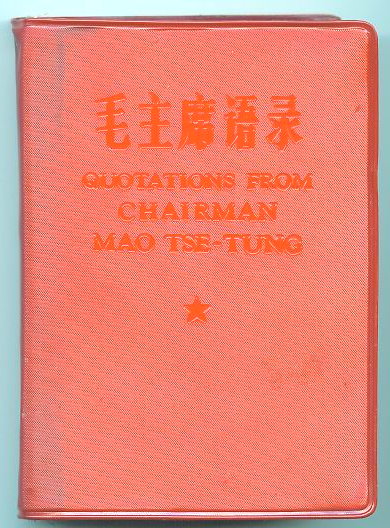 MAO (Tse-Tung): QUOTATIONS FROM CHAIRMAN MAO [in Chinese and English]. Peking: The East Is Red Publishing Company, August 1967. Portrait of the Author (in brown ink), also complete with Lin Biao's facsimile calligraphic endorsement "Study Chairman Mao's writings, follow his teachings and act according to his instructions". 16mo, [viii], xv[i] 589pp + colophon leaf; original white stiff board covers with sewed headbands at both ends of spine, slipped inside its original flexible red vinyl covers (blind-stamped with title in both languages on the front cover, a Red Star blind-stamped and centered below).
Notes: First Edition, 1st printing of the LRB as a bilingual text: Chinese and English on alternating pages, published on the first anniversary of the start of the Cultural Revolution.
Measurements: Measures 5-1/4 x 3-11/16 inches, 3/4 inch thick
Email with your book requests. mikeyes@earthlink.net