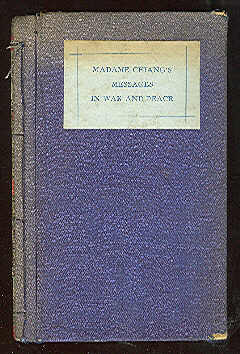 MADAME CHIANG'S MESSAGES IN WAR AND PEACE
[Hankow, 1938…by May-ling Soong Chiang (Madame Chiang Kai-shek).

Description:
This is a rare presentation copy and limited printing from the China Information Committee. Printed and published in great haste with type set by "hand". Quote from bound in letter dated September 1938 states "that the book was published in Hankow "under very great difficulties". When this very copy was posted a Japanese army was 100 miles from Hankow. For the first part of its journey to you it will pass over the most bombed railway in the world.

True First Edition, original blue silk decorative cloth covered boards with colored silk spine, paper label on upper cover, 382 pages. A selection from her speeches, letters and writings. Includes a typed presentation letter inside from the China Information Committee, dated September 1938.

Information about this rare edition from the "Foreword" Editor's Note: Indulgences must be claimed for certain unavoidable shortcomings in this book, as it was compiled in Hankow where modern facilities for book-making are unavailable. The million or so individual letters were picked from type compartments and hand set by Chinese compositors who knew little English. Type so small unfortunately was available only for forty pages at a time. There were delays in paper shipments as Japanese planes subjected the Kowloon-Hankow Railway to daily bombings. There was a less aggravating delay when the compositors allocated to the type setting ran away to an army camp and needed considerable cajoling and an order from the Higher Command before they were made to understand that theirs was already a patriotic occupation. This first edition is a limited one: later editions of this book will be printed abroad in a manner that should do more justice to the writer and the material.