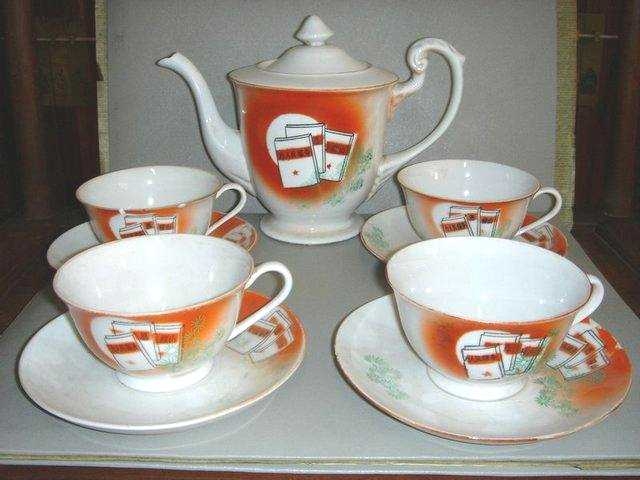 A very rare tea set made in Inner Mongolia
instead of Jiangdezheng.
This teaset includes 1 teapot, 4 cups and 4 plates in excellent condition.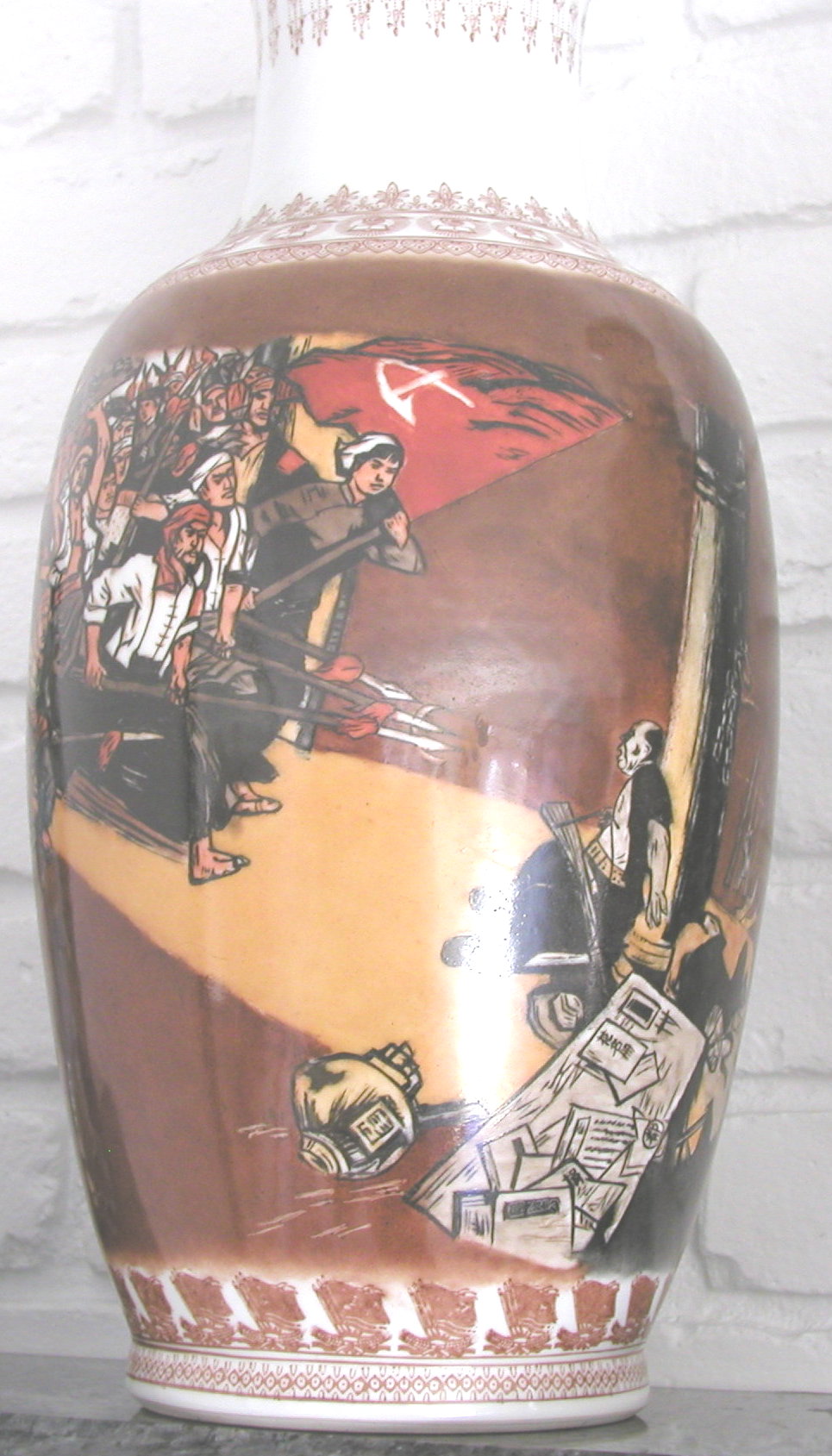 HAND-PAINTED VASE to commemorate the 44th Anniversary of the Hunan Peasant Movement (Harbin 1926) report written by Mao Tse-Tung; this report was delivered the following year (1927) which thus dates our vase as 1971. The scene depicts the Hunan Peasant revolt where a large crowd (15 figures) holding pitchforks, bayonet, Red Flag, &c overwhelm and destroy the control of wealthy landlords (and/or warlords), to disrupt the clan authority and shift political power of the community to those interests which protect the peasantry. Although initially focused in northeast China, this report proposed for nation-wide support even at a time when the Communists were trying to survive and establish a foothold against the Nationalist (Kuomintang) Party prior to the Shanghai Massacre and the Long March.

Notes: Six decorative geometric bands circle the top, one at the bottom, including a symbol of a burning torch illuminating an open book.
Height 17 1/2 inches
Excellent condition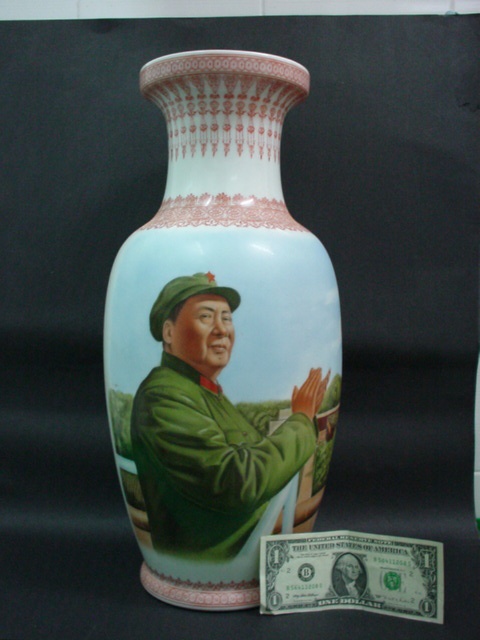 "Chairman Mao Receiving the Red Guards"
Description:
Chairman Mao on the front side of vase receiving the Red Guards
Mao's Quotations in scripted on back side of vase
Made by the high level ceramic artists of Jindezhen
Jindezhen Porcelain Art Factory December 1968 in scripted on the bottom of the vase
18 inches height in excellent condition
More pictures by request
$3500.00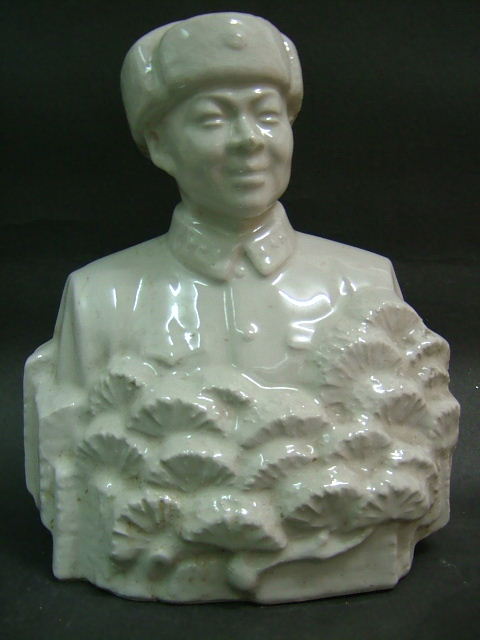 Statue of Lei Feng 10 inches high in perfect condition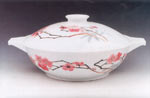 "7501 Chairman Ceramics"
Background
PART A
7501 is a series of daily use ceramics specially designed for the exclusive use of Chairman Mao in the 1975. A complete set includes 138 pieces of various ceramics such as bowls, tea spoons, dishes, pen holder, ash tray, teapot, decorative vases etc. Only two sets, which mean 276 pieces, were actually sent to Zhongnanhai for Mao's usage. The rest of the production, which amounts to about 1000 odd spare pieces (some are in perfect condition and some are of less good condition or minor defects) were ordered to be destroyed. But as Mao died soon afterward, the plant didn't follow the destruction order and kept them in stock. The plant later decided to dispose them by way of presenting them as free gifts to its staff. Each staff member entitled to get a small piece and the senior staff member got better items. And in fact it wasn't until outside people became aware of the existence of this series of exclusive Mao products. A "clever" merchant in China took the chance to buy a large portion of them from the hands of the staff. Only a small portion had gone to the hands of other collectors/dealers or remained in the hands of senior staff.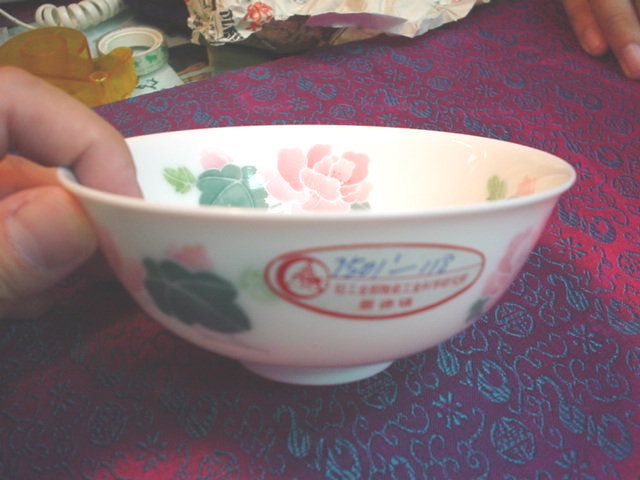 "7501 Chairman Ceramics"

Fu Rong